Photo and quote of the month – September 2018
We thought it would be fun to feature an amusing quote about life with donkeys and a lovely picture of our beloved animals each month. There may have to be a selection discussion if we get lots!  Please email webdonkey@donkeybreedsociety.co.uk with your submissions.
Meet little Diamond Dai, just a few weeks old… isn't he beautiful?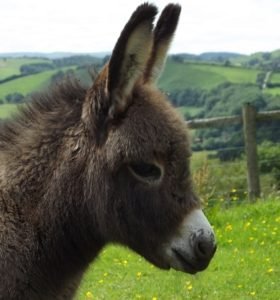 Juggling work and animals is the theme of this quote of the month: 'Proximity to my animals as a condition of work is something I always want to tell the organisations that contract with me when they tell me where I'm working but somehow it isn't quite the 'done' thing to say that I'm not going to London as my donkeys will miss me and I'll have to poo pick the next day after a late return!'  Liz Harris, self employed career development consultant, web donkey and donkey Guardian