Remembrance Sunday 11th November – purple poppies for donkeys, mules and horses
On Remembrance Day we traditionally recognise and remember the human loss of life from wars around the world.  However, in the early part of the 20th century it wasn't just men who served at the battle front: animals remained a crucial part of the war effort. Horses, donkeys, mules and camels carried food, water, ammunition and medical supplies to men at the front, and dogs and pigeons carried messages. Canaries were used to detect poisonous gas, and cats and dogs were trained to hunt rats in the trenches.
Eight million horses and countless donkeys and mules died in the First World War. This has recently been recognised through the War Horse Memorial, https://www.thewarhorsememorial.org/  the first national memorial dedicated to the millions of UK, Allied and Commonwealth horses, donkeys and mules lost during World War One.  Designed to pay tribute to the nobility, courage and loyalty and immeasurable contribution equines played towards us having the freedom of democracy we all enjoy today, it also marks the last time equines would be used on a mass scale in modern warfare. 
We are all familiar with the red poppy signifying loss of human life, but now you can choose to wear a purple poppy to remember the loss of animal life, those who had no choice and no voice.  You can raise awareness by knitting or crocheting a purple poppy and wearing it with sympathy and pride.  Search online for poppy patterns or YouTube videos like this one and get some wool in purple and black!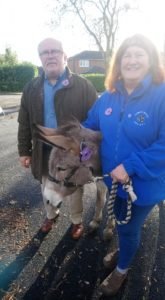 Liz Wright with Daisy at poppy gathering at Wimblington