The Active Donkey Award (ADA) will always be something special for members of the DBS, acknowledging that an active donkey is a happy donkey. ADA was created as an award following a generous bequest in 2007 from Doreen Heyes who, as a Donkey Sanctuary Welfare Officer, firmly believed that donkeys were capable of doing so much more than just standing in a field.
As ADA Administrators, John and Terri Morris have looked after ADA for some 24 years, affectionately referring to participants as part of their "ADA family". As ADA comes to a close on July 31st, 2023, a big 'thank you' from the ADA family to Terri and John Morris for all that they have done.
Starting on 1st August 2023 the DBS will have a new award, the Active Donkeys Do Award (ADDA), to continue encouraging members to interact with their donkey through activities in their field, garden or out and about.  Different donkeys will be able to do different levels of activities but whatever the donkey can do, the award wants to build the donkey's confidence and skill.
For ADDA, with the exception of showing at donkey breed classes, anything that would benefit the donkey in its training will count, and here are a few examples to give some ideas –
For the nervous or novice donkey, basic skills such as: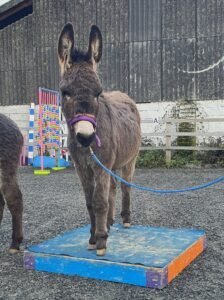 Calmly having a headcollar put on.
Having feet picked up.
Being touched all over.
Being led around the field.
Coping with the vet.
For the more experienced and confident donkey:
Going for a walk out of the field.
Loading into a trailer.
Walking through a puddle.
And any events away from home as appropriate for the donkey such as taking part in regionally organised events, fun show classes, Palm Sunday or nativity events.
Each ADDA year runs from 1st August to 31st July, and participants will receive a rosette for their activities during that period. Furthermore, special rosettes will be awarded for 5, 10, and 15 years of participation, with any years completed through the previous ADA also taken into account.  It's important to note that the years do not need to be consecutive.
To take part in ADDA, a fee of £5 per donkey per year is required. At the end of the ADDA year, participants need to submit to the ADDA Administrator a description of eight activities their donkeys have accomplished during that period.
To enter, just click here complete the form and make your payment by BACs or cheque.
If you are unable to complete your entry online, please contact the ADDA Administrator adda@donkeybreedsociety.co.uk
or
The DBS Secretary, The Hermitage, Pootings, Edenbridge, Kent. TN8 6SD. (01732) 864414 for an entry form.