DBS 2023 50th year National Championship Show 19th August
For photos and a summary of the day please see here
For the results from the Championship Show, please see here
DBS 2022 National Show Celebrating the Queen's Platinum Jubilee 20th August
For photos please see here
Championship Show results DBS CS 2022 Results (1)
For a summary of the event, please see: Keeping you in the loop! DBS Championship Show 2022
Championship Show overview
The Donkey Breed Society welcomes class sponsorship at its Annual Supreme Championship Show held each August.
The Donkey Breed Society Championship show is open to all members and donkeys owned by members. Unlike many Annual Breed Society Shows it is not necessary to pre-qualify to enter your donkeys.
Our Championship Show is open to any donkey whatever its breeding (known or unknown), colour, conformation, height and age.  Our only criteria are that the donkey must be in good health and owned by a member of the Donkey Breed Society.
A donkey can pre-qualify for a Breed Championship relevant to its age and gender at the Supreme Show by winning the Championship at a local affiliated show. The Championship Show is of course the pinnacle of our showing calendar and within each of the categories there is something for everyone, whether it be in-hand showing, driving, junior classes or fun classes. The ultimate prize for each category is the red, white and blue ribbons of the Championship rosette.
2019 Championship Show results are the most recent due to the pandemic and will be replaced following the next Championship Show in 2022:
RESULTS OF THE AGILITY CLASS AT THE 2019 DBS CHAMPIONSHIP SHOW
DBS 2019 Results – Saturday v2
Photos of the day can be viewed and bought from here 
Caragh Doran: Young Handler and Young Rider champion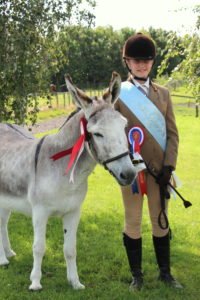 Debbie Street driving Hapgood and Guildens  2019 Supreme Driving Champions
Glendene Tao – Supreme In Hand Champion
Caragh with Barney as Novice Driving Champ