Regional Delegate and Chair
Elizabeth Brown 07733121532 brownroadfarm@gmail.com
Secretary
Sarah Booth 07970375562 northerndonks@gmail.com
Colley Mill House, North Rode, Nr Congleton, Cheshire.  CW12 2PL
Area Rep – Cumbria
Ann Marie Harrison harrison.anm@hotmail.co.uk
Area Rep – Derbyshire
Penny Marsden 01246 590316
Area Rep – Lancashire
Pam Moon 01772  316038 or 0771 281 5061 pam.moon@talktalk.net
Area Rep – Cheshire/Greater Manchester
Olwen Brown 01457 762336
Area Rep – North & East Yorkshire/Cleveland
Pat Mather 01937 83313 pat_mather@msn.com
22 Edgerton Drive, Tadcaster, North Yorkshire LS24 9QW
Area Rep – West Yorkshire
John & Terri Morris 01274 835520 wychbrook@hotmail.com
Area Rep – South Yorkshire
Josie Mackenzie 01427 728553
Area Rep – Northumberland
Geraldine Burton 01434 681335 gadburton@yahoo.co.uk
The 2019 Spring newsletter is here Northern region spring 2019 news
Northern Newsletter Autumn 2019
.  Yes, there are a few teething troubles: page 5 is blank but that's because try as I might I can't delete it but it will be rectified for the next one and there's a bit of a space that would not accept a picture or any text but again, this will be sorted, but I hope that you enjoy it nonetheless!  It will be so much better when
 your
 news, pictures, advice, thoughts and so on are shared in there too!!  So, start thinking about how you can contribute and send your contributions to: 
northerndonks@gmail.com
.
I've called it 'Asspire' (deliberate spelling mistake to make the pun!) because I think that's what we do, we aspire daily to be the best humans for our donkeys – all 131 of us in our Region (with around 332 donkeys!).  I have had hard copies printed out (without p.5 obviously) to hand out at the Show, because if we can pass them on to people we know, who have yet to join (perhaps your local vet/saddlerystore/children's farm might be a good place to put some extra copies), then maybe we can swell our ranks?  If you have an ideal spot for some extra copies, let me know and I'll send them to you.
Milly, Boo and Tilly at Romiley Show, 2nd September 2018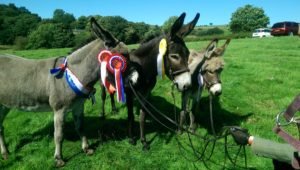 Northern Region walk round Tatton Park in Cheshire, five donkeys, a pony, a dog and their humans all enjoyed the beautiful surroundings and the spectacular stags anticipating their female company:
Northern Region Report May 2019