Area Reps (all committee members)
Bedfordshire:
Bedfordshire – Tracey Robinson. 07594 657760  doofydan6@gmail.com
Buckinghamshire: 
Clare Bysouth  – 01442 825879  clarefrances33@gmail.com
Cambridgeshire: 
Liz Wright – 01354 741538    ewright757@btinternet.com
Joss Goodchild – jossbmg@icloud.com
Essex:
(West) Carole Travell  07889 162715  caroletravell@btinternet.com
(East) Jude Pearce, 07814 738408  jude303@btinternet.com
Hertfordshire: 
Maggie Taylor – 07860 876154  maggie.taylor3@hotmail.co.uk
Lincolnshire/Nottinghamshire: 
Chris Voigt – 01406 540874   silvertouch@btinternet.com
Northamptonshire:
Vacant
Suffolk/Norfolk: 
Annette Staveley – 01284 830240   astaveley1@hotmail.com 
Here is the autumn/winter newsletter: EarEar 202311
Eastern Region Report
Donkey Wreath-Making, 3rd December.      Joss Goodchild
Downpours of rain outside the barn at Gate and West Farm did not dampen the enthusiasm of those within who, to the accompaniment of donkeys munching straw, Christmas music and the occasional bray, created festive wreaths of wonder!  Ably guided by Annette we wove hay, glued eyes, affixed fir cones, baubles and ribbon to produce these donkey-inspired decorations.  A lovely creative day with friendly banter, a generous raffle and festive refreshments.  Thank you Annette!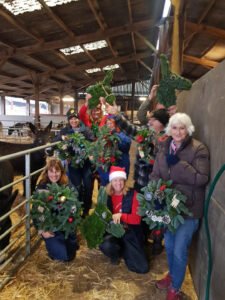 Milton Training Day.   Carole Travell
On Sunday 22nd Oct, the DBS Eastern Region held a training morning at West Anglia College indoor school, at Milton near Cambridge. The event was open to both DBS members and non-members, with or without their own donkeys plus our 'ever reliable' demo-donks Mandarin and Tintin, owned by DBS member Carole Travell. Members Tom and Debs McKay brought 2 of their donkeys to practice long-reining and to have a go at agility.
We had asked attendees what sort of thing they would like us to cover and, as a result, we had sessions on general care, foot care/handling, body condition scoring, harness fitting and long-reining intro, inhand showing, Travelling Your Donkey and also an introduction to agility demonstrating how to use easily procured items – and how the activity could benefit your donkey relationship and training in a wide variety of fields including 'just' going for a walk.
Hot drinks and an amazing array of refreshments were managed by Joss Goodchild, with trainers being Carole Travell, Liz Wright and Elaine Lewis.
We had a fun raffle with a great variety of prizes (Elaine Lewis' cake and Tom & Debs McKay's veg box being some of the stars!).
The morning was a great success, very social with lots of questions asked and answered. We will be holding more in the future. If you can find a (covered) venue, somewhere in the Eastern Region where you think such a day would be welcomed please just get in touch. We don't have local knowledge of venues but if you can help with that, we'll do our best to arrange the rest!
ERADS Show Report.  Liz Wright
On 7 October the East Anglian Regional Donkey Show was held at Skylark Garden Centre, Wimblington which is between Huntingdon and Kings Lynn and has a really lovely café.
The weather was kind to us and we had a really good entry of standard and mini donkeys.  Although this is Championship Show, there are classes especially for those new to showing plus four fun classes for everyone to enjoy, ranging from Donkey the Judge would like to take home with them and Best Ears!   Our judge for all the classes was Mrs Lewis, and she had a lot of decisions to make throughout the day including the driving.
What I as organiser took from this day was how much fun it was and what a great time we had.   The help and support was wonderful. Thanks to Carole Travell, Tom Bysouth, Lindsay Coker and Mick Knight for their support and for the competitors for being so friendly and enthusiastic.   Huge thanks to Skylark Garden Centre who are so kind in allowing us to use this lovely venue which is so easy with its parking, hardstanding and sheltered showground and so much space plus toilets and café on site. Mrs Lewis and her continual good humour made judging look so pleasurable too.
The overall Champion came from the Youngstock In Hand Championship and Reserve from the geldings and stallions was Jade Weaver with Perehill Poetry in Motion; Reserve was Wendy Sawyer, handler Yasmin Sawyer with Justia Huggermugger
The Driving Champion was Daniel Street with Sage.
Fun Class Champion was Luna Bunker with Wendy Sawyer's  Justia Fibbertegibbit
Next year's Show will be held on 5 October '24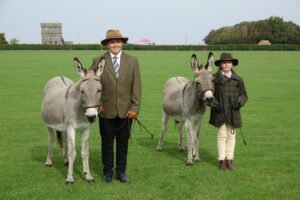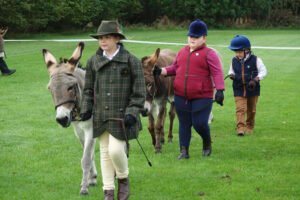 Gransden Show.  Carole Travell.  Photos by Linda Swain

On Saturday 30th September the Eastern Region of the DBS made our usual appearance at Gransden Show, near Sandy, Beds. The show kindly put up 2 pens for us and Rosemary, with her 2 minis and Carole, with 2 standard mares, attended together with willing assistants and spent the entire day talking to the public, answering questions on donkeys and donkey welfare as well as – of course – promoting the DBS.

At 12:30 pm we were joined by other members and their donkeys and gave a 30 min parade with commentary. Annette and helpers, Marc and Kate, Tom and Debs and Tom Bysouth helped handle a 'first timer' donkey. As ever, the donkeys were well behaved and very popular. For some of the donkeys this was their first parade and they were understandably a bit wary but with calm and reassuring handling, they made it around the ring and soon settled.

The show was a great success, lots of advice given, lots of people going away with far more knowledge than when they arrived, some money raised for our local funds and new people introduced to the DBS (and who came along to our training day a month later).
Blandings Carriage Driving farm near Newmarket was the venue for a DBS fun day on 27th August. 11 donkeys and 19 owners/supporters from the Eastern Region enjoyed facilities new to us, a purpose-built grass track around farmland, separate gate obstacles, a cones course and spacious Handy Donkey area. Donkeys were driven as singles and pairs, others were long-reined or led in-hand. All had a try at everything, mostly with success! A shared picnic lunch completed a really lovely day. Plans are afoot to revisit the venue, there's talk of an additional dressage class and timed events!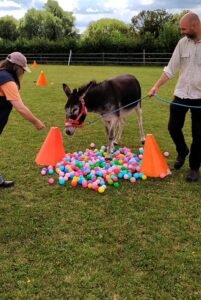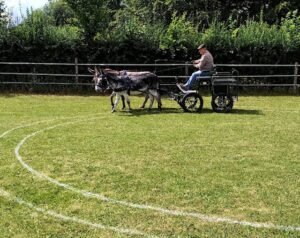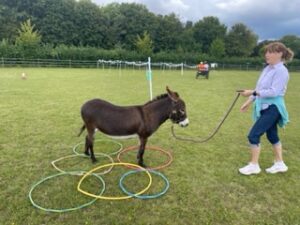 CORONATION PHOTO SHOW RESULTS
Thank you to our Judge, Liz Barrett, who wrote 'what a delight and not the easiest decision'.
Class 1 Red, White, Blue: 1st Anna Bocking, 2nd Katie Mitcham, 3rd Franki Selby.
Class 2 Spring: 1st Anna Bocking, 2nd Katie Mitcham, 3rd Carole Travell.
Class 3 Most Royally Behaved: 1st Joss Goodchild, 2nd Carole Travell, 3rd Judy Rowe.
Class 4 Court Jester: 1st Paul Childs, 2nd Judy Pearce, 3rd Carole Travell.
Class 5 Little Prince/Princess: 1st Joss Goodchild, 2nd Carole Travell, 3rd Annette Staveley
Congratulations prize winners and THANK YOU to everybody who entered.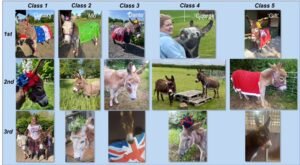 The donkey classes at the lovely sunny Hadleigh Show in Essex on 20th May were well attended, the ringside crowded with spectators enjoying the event.  Wendy Sawyer's gelding, Justa Bazinger, took Champion and Reserve went to Jude Pearce's young miniature filly, Swanthorpe Tartan.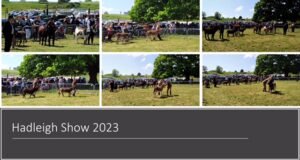 ————————————————————————————————————————————–
—————————————————————————————————————————————
An enthusiastic group celebrated the start of 2023 with a lovely New Year's Day walk in Aldeburgh, Suffolk.
On the subject of walking, the newly formed HeeHawHikers, set up by Annette, meet monthly to explore different locations with their donkeys.  Emma Young hosted April's outing which was enjoyed by all.
In March we took part in a fun event at Gate and West Farm creating Spring wreaths. With patient guidance from Annette the participants created hay circles decorated with flowers, stitched felt donkey heads, ribbons and other Easter-themed additions.
In April donkeys throughout the region took part in Palm Sunday Easter celebrations.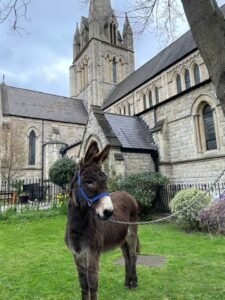 This month also saw Carole and Tin, Emma and Penny brave extremely wet weather to fly the donkey driving flag at the London Harness Horse Parade.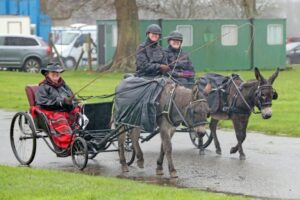 Sunday 23rd April 2023 Fen Event
The small fen-edge village of Reach played host to a DBS event, participants carriage-drove, long-reined and led (inc. pack) their donkeys along tracks, lanes and wide open fenland expanses for nearly 6 miles.
Permission to cross the National Trust's gated Tubney Fen was a highlight, it provided a lovely trotting track, accompanied only by skylark song and the calls of geese.   Afterwards, the organiser Joss, provided a buffet in Carole's horsebox! adding to a sociable day.
If any member would like to write an article or just tell us about your donkeys for the Ear to Ear newsletter, it would be greatly appreciated. Contact Carole Travell or your local Area Rep.
*******************************************************************