Building a relationship with your donkeys: DBS Wales day with Ben Hart, October 2019
In October 2019, eleven donkey owners were joined in Carmarthenshire by Ben Hart, internationally respected equine behaviour specialist, for a day focused on building better relationships with our donkeys. Participants mainly came from Wales, but one had come specially from Staffordshire for the training day. We were all at different stages in our experience of donkey ownership, from seasoned hands to absolute beginners and it was clear that everyone gained from the discussion, Ben's guidance and the ideas and encouragement of other participants. A more detailed report on the day is given here: Building a relationship with your donkeys2
Donkeys' experience colours their future behaviour. Ben does not believe that donkeys disobey us just to be naughty, stubborn or because they want to make us look silly. A donkey may have developed negative behaviours as a result of past experience and, in particular, may have learned not to trust certain situations. Ben told us that his approach to training is based on the premise that the true nature of equines is to be fearful of new situations and even familiar ones sometimes. The reasons equines don't do what we want them to are generally because they don't understand what is required, they have not been taught what is required, they physically cannot do it, they are in pain or they are afraid.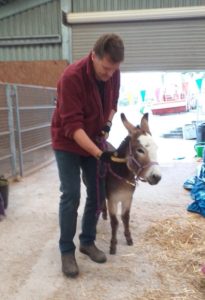 Ben told us that the most common cause of behavioural problems in donkeys is pain and/or the effects of a medical condition. It is not possible to train a donkey until pain has been ruled out or addressed by the owner and vet. It's important, then, to spend time observing your donkey and identifying possible causes of the problems, while taking care not to jump to quick conclusions.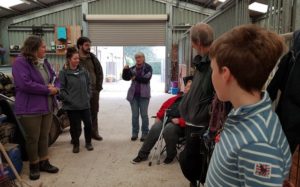 Understanding the donkey's body language is important. They are speaking volumes with those ears and that stance! If we ignore the signals then there is a risk that the donkey (and we) will overreact and set the relationship back another step. Consistency on our part will help build trust and confidence and Ben advises developing a clear, itemised shaping plan for any work we do with our donkey. The planned activity should be broken down into small steps and it's important always to start back at step 1, to provide consistency and to reinforce the learning process. The process may well take a long time and it is possible that the behaviour will get worse before improvements are apparent, but consistency, calmness and clarity of purpose on our part will build the donkey's confidence and understanding and acceptance of what we are trying to do together.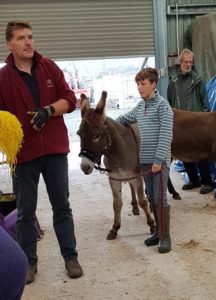 There is a lot of guidance on both The Donkey Sanctuary website and on Ben's own website:
https://www.thedonkeysanctuary.org.uk/sites/uk/files/2017-08/understanding-donkey-behaviour.pdf
http://www.hartshorsemanship.com/index.cfm?fuseaction=controller.viewPageHome
The Donkey Sanctuary offers courses on donkey behaviour at its centres, so if you're interested, keep an eye on their website. The DBS Wales event in October was really helpful for those of us who live in west Wales, a very long way from any of the Sanctuary bases and it was good of Ben to come all the way from Devon to spend the day with us. Two of our members kindly lent us some of their donkeys to practice on and one hosted the event on her premises. Some of us left the event a little daunted by the responsibility we had taken on in bringing donkeys into our lives, but we had all gained a clearer view on how to address at least some of the issues we were experiencing. Feedback from some participants some time after the event suggests that they are using what they learned on the day to address behavioural problems and making some encouraging progress. Further activity on relationship building and addressing behaviour will be developed for Wales members if there is sufficient interest.
Marilyn Lewis, Regional Secretary, Wales Committee