For the summer 2021 newsletter, please download from here: DBS Summer 2021 Newsletter Wales
The plans 'of mice and men' – and Snowdonia Donkeys
COVID-19 has shaped all our lives this year and most of us have had to adapt our activities and routines to move forward. Summer 2020 was planned as our big summer of activities since we secured land at Ffarm Moelyci, near Bangor. We were planning on using this period to offer new activities, deliver funded projects and generate much needed income. Lockdown and post lockdown routines meant that most of this has been impossible.
The challenges of the pandemic made us rethink how we connected with people, if they could not physically come and meet the donkeys. How could we share our lovely donkeys and the work we do with people who couldn't visit? As a small organisation, we also had to ensure we prioritised work with and the welfare of the donkeys.
Lockdown also had implications for our programme of volunteer recruitment and activities. Our original plan was focused on providing outdoor and conservation-based volunteer opportunities. None of that was possible, so we considered what other ways we could utilise volunteer time and skills.
We also had to keep in contact with the young people we work with in new ways. In consultation with some families we decided against online activities. Our families didn't want their young people online any more than they had to be and some didn't have Internet access. In response to this we sent them letters and parcels in the post, along with photographs of their favourite donkey; photos of them with the donkeys and craft or art activities with a donkey focus. We received the following positive feedback from the young people and their families:
"Thank you for the letter and activities, they made me happy to have contact with the donkeys."
"Thank you for sending XXX the parcels. She is missing Clwb and the donkeys a lot. Your contact helps her to feel connected".
We provided resources for activities that could be completed at home and brought to the donkeys once lockdown is over, such as bunting and artwork featuring the donkeys. For our regular supporters, for whom we would have held open days so they could meet the donkeys, we produced a newsletter to keep them updated with the donkey news.
And last of all, again in consultation with supporters, we reshaped our presence on social media. This involved daily posts to Facebook and Instagram, holding live events – Norman's birthday party was great fun – and sharing more of our day to day routines with people, so that they could feel involved with what we do.
That just left the volunteers and our volunteer recruitment programme. We wondered what we could do to recruit more volunteers and find activities for them to be involved with. The result – well, I have to blame may mum for it really. Pre-Covid she was a very active pensioner who enjoyed making cards, sewing, knitting and getting out to meet friends. I also enjoy knitting and previously we had found an interesting donkey knitting pattern, so she had knitted a few of them for us to sell to help raise funds for our work. Lockdown meant that she now had more time on her hands, so with encouragement she knitted us a few more donkeys. When their numbers started to build up I realised that I had to use the social media to sell some, if only to make some space in our living room!
A willing volunteer helped us to organise Facebook events and raffles where the donkeys and other items could be sold and this helped to bring in some much needed income. Mum shared news of the knitted donkeys with her friends and more people started to knit. We shared their work on Facebook and advertised the opportunity in the Volunteering Wales website and recruited more knitters.
Snowdonia Donkeys supported the knitters with patterns, wool, stuffing and needles, if needed. We acknowledge that being able to sell the knitted donkeys is useful source of income, but more importantly it has enabled knitters to be connected and engaged in an activity and that has been important to people's wellbeing during lockdown. We now have knitters all over the UK and their creativity and skill is amazing.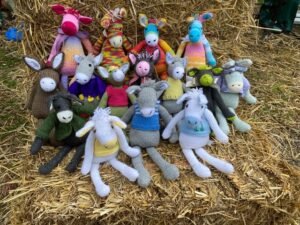 "I don't know what I would have done (during lockdown) if I hadn't been knitting donkeys"
"I'm usually out and about meeting people but this has been a great way to stay connected to people. I have my friends knitting now too".
Technology has played a growing part in our work. We have held weekly Zoom sessions for regular clients who couldn't visit – weekly Donkey Time has included virtual walks with donkeys, field maintenance and sometimes just having quiet time watching the donkeys eat.
We were also grateful to those Donkey Breed Society members who suggested activities to do with donkeys during lockdown. We took part in the Boris Challenge and the DBS online show and encouraged others to do so. Our donkeys now have lovely rosettes that we would not otherwise have achieved.
What has this meant for Snowdonia Donkeys going forward? Well some of the activities we don't need to continue, but the most important outcome? – It has consolidated our ethos that while donkeys are at the centre of what we do, it's the impact that they enable us to have on the people we work with, our networks and supporters that is so valuable.
Ruth Stronge
And then – Donkeys win the Lottery!
Thanks to National Lottery players and a new partnership with a local mental health charity, Snowdonia Donkeys will soon be working on a six months pilot project Eryri Awyr Iach /Snowdonia Fresh Air. The Abbey Road Centre in Bangor has a small outdoor space and Covid19 restrictions mean that the space is unsuitable for their clients to use.
A chance meeting between staff at Snowdonia Donkeys and the Abbey Road Centre, followed by an introduction to some donkeys of course, resulted in a partnership project funded by the National Lottery Community Fund. Snowdonia Donkeys will be delivering activities that promote health and wellbeing whilst interacting with the donkeys and supporting the participants to enjoy the outdoor environment.
This pilot project is another example of how Snowdonia Donkeys is involved with helping to promote the value of donkeys and the role they can play in promoting health and wellbeing. Students from the Psychology Department at Bangor University have also been investigating the benefits of working with donkeys as part of their Masters Degrees in Clinical and Health Psychology.
Ruth Stronge
Online donkey shows
I've been entering my donkeys into online photo/video shows on social media on and off for the last 5 years. There seems to have been a large number of online horse shows for quite some time, and (providing you check with the organiser) many are more than happy to have donkey entries alongside their horse and pony competitors, depending upon the class requirements.
Recently though, over the last year I have noticed things pick up for our long eared friends, with many shows having a specific donkey class or two! In addition to this, there have even been a few dedicated online donkey shows run by several different organisations. Some of these have helped to raise funds for donkey charities and organisations as well. Especially in current times, where travelling restrictions and social distancing guidelines have been in place, and with many events being cancelled entirely, these online shows have definitely helped to sustain the fun of donkey showing.
From my own experience of travelling to show events, the donkey community has always been incredibly supportive, friendly and welcoming. We even managed to win a few ribbons. But it can be difficult to manage the time needed to attend these shows, often being mid-week and requiring long journeys to get there. It can be very stressful arranging transport, ensuring a safe journey, keeping everyone fed and looking smart, remembering all your necessities, and then hoping everything goes to plan once in the ring! As we all know, sometimes a donkey just doesn't want to play ball and I recall many occasions of donkeys not getting in a trot, refusing to walk on and even rolling in the show ring!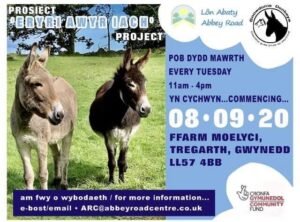 So these online showing opportunities are a great way of getting involved in showing without the stress. You can prep your donkeys in your own time, get a few shots of them in action or looking smart without the extra hassle and expense. Online shows do have a small entry fee, but compared to the cost of travel and possibly even accommodation, it's a much more accessible way of showing off your donkeys and enjoying the fun of a show. I highly recommend giving it a go; all donkeys can enter (including those that may otherwise not be able to participate or travel), so nobody needs to miss out. Classes range from more formal condition and turnout, ridden and working donkeys, to fun and light hearted classes, such as 'best friends', 'make us smile', and agility.
Attending traditional donkey shows in the past has been a great experience, especially meeting and chatting to other donkey enthusiasts. It's definitely worth attending a few, even just as a spectator or helping hand. If you can't attend, don't feel ready to go to shows, or at times like the present when events are not running, the world of online showing is a fantastically simple way of still engaging in the community and enjoying your passion for these amazing animals. And there is no chance of you all getting soaked by the rain!
Giselle Laverack
Building a relationship with your donkeys
DBS Wales day with Ben Hart, October 2019
In October 2019, eleven donkey owners were joined in Carmarthenshire by Ben Hart, internationally respected equine behaviour specialist, for a day focused on building better relationships with our donkeys. Participants mainly came from Wales, but one had come specially from Staffordshire for the training day. We were all at different stages in our experience of donkey ownership, from seasoned hands to absolute beginners and it was clear that everyone gained from the discussion, Ben's guidance and the ideas and encouragement of other participants. A more detailed report on the day is available here Building a relationship with your donkeys2
Donkeys' experience colours their future behaviour. Ben does not believe that donkeys disobey us just to be naughty, stubborn or because they want to make us look silly. A donkey may have developed negative behaviours as a result of past experience and, in particular, may have learned not to trust certain situations. Ben told us that his approach to training is based on the premise that the true nature of equines is to be fearful of new situations and even familiar ones sometimes. The reasons equines don't do what we want them to are generally because they don't understand what is required, they have not been taught what is required, they physically cannot do it, they are in pain or they are afraid.
Ben told us that the most common cause of behavioural problems in donkeys is pain and/or the effects of a medical condition. It is not possible to train a donkey until pain has been ruled out or addressed by the owner and vet. It's important, then, to spend time observing your donkey and identifying possible causes of the problems, while taking care not to jump to quick conclusions.
Understanding the donkey's body language is important. They are speaking volumes with those ears and that stance! If we ignore the signals then there is a risk that the donkey (and we) will overreact and set the relationship back another step. Consistency on our part will help build trust and confidence and Ben advises developing a clear, itemised shaping plan for any work we do with our donkey. The planned activity should be broken down into small steps and it's important always to start back at step one, to provide consistency and to reinforce the learning process. The process may well take a long time and it is possible that the behaviour will get worse before improvements are apparent, but consistency, calmness and clarity of purpose on our part will build the donkey's confidence and understanding and acceptance of what we are trying to do together.
There is a lot of guidance on both The Donkey Sanctuary website and on Ben's own website:
https://www.thedonkeysanctuary.org.uk/sites/uk/files/2017-08/understanding-donkey-behaviour.pdf
http://www.hartshorsemanship.com/index.cfm?fuseaction=controller.viewPageHome
The Donkey Sanctuary offers courses on donkey behaviour at its centres, so if you're interested, keep an eye on their website. The DBS Wales event in October 2019 was really helpful for those of us who live in west Wales, a very long way from any of the Sanctuary bases and it was good of Ben to come all the way from Devon to spend the day with us. When circumstances allow for gatherings and greater travel, we will look at further training and support for owners in Wales.
Marilyn Lewis, Regional Secretary, Wales Committee