Sue Jones  01981 510269   siouxdoyle@hotmail.co.uk
Assistant Area Rep – Herefordshire
Jacky Edwards          01873 860563    cwmbwlch@btinternet.com
Assistant Area Rep – Warwickshire/Worcestershire/West Midlands
Vanessa Morrish       07748 913723    vanessamorrish@hotmail.co.uk
Area Rep – Shropshire
Vacant
Area Rep – Staffordshire
Julie Sleight               07837 598216    mail@aspiresstafford.co.uk
Donkey Breed Society Western Region WhatsApp Group
We have created a WhatsApp Group for informal donkey chat, news,
reminders of upcoming events and to share useful information. If you
would like to join the group please send your phone number to Vanessa
via WhatsApp – 07748 91723.
2024 Events – contact Claire Harper for more details
(a)  Thursday 28th March  –  Countrytastic at Malvern Showgrounds
(b)  May – Donkey Dentistry at North Littleton
(c)  14th to 16th June  –  Three Counties Show at Malvern Showgrounds
(d)  August – DBS Championship Show
(e)   27th to 29th September  –  Malvern Autumn Show at Malvern Showground
(f)  8th December 2024 – AGM.  Venue to be decided.
Pennyhooks Care Farm – Webster Walk 23/7/23
DBS members and donkeys from several regions met up for a Webster Walk at Pennyhooks Care Farm, raising money for the students that the farm supports.  It was a wonderful day, with a gentle walk around the fields, lovely refreshments made by students, and the opportunity to catch up with or meet friends.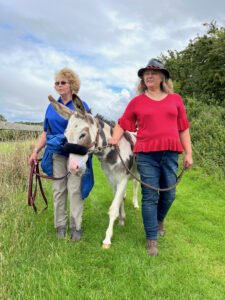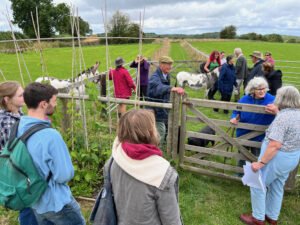 By now members will have heard from Claire Harper that they can now receive her Newsletter via their Area Representative by e-mail, rather than by the more expensive postal route, if that is your choice. If by any chance you have not made and notified the choice please set it up now.
We hope that by involving Area Representatives in the distribution we shall bring members more in touch with their own representative. It is important that e-mailed Newsletters are downloaded, printed out and filed in your DBS records for future reference. It is all too easy for e-mails to become lost, if left to linger in an In Box.