Regional Delegate
Stephen Cherry
Area Rep
For the wonderful photos and video of The Mullahead Ploughing Championships  2019 – see here 
AGM 9th February 2019
Have a look at the photos here in the gallery. It was a great evening.
The Annual Carrot Chase 20th October 2018
The Donkey Breed Society NI held their annual Carrot Chase on Saturday 20th October with very kind permission from the Ulster Folk and Transport Museum, Cultra. The Halloween Carrot Chase was a great success with lots of fun and laughter.  Just check out the costumes, a total work of art!!
Well done everyone who took part and made the day such a success. Thank you to Lorna Shannon and Peter Shaw for the yummy food and for  the homemade treacle and wheaten bread.  Also,  to one of our junior members Kathryn McKeag who made scrummy pumpkin buns.
Jill Castles and her trio of donkeys looking the part around the Ulster Folk and Transport Museum, Cultra:
James McHenry and Chloe Agnew making their way around the paths of The Ulster Folk and Transport Museum in search of carrots.
Many members off in search of carrots and pumpkins:
Pamela Henderson and her donkey Dec all ready to go in hunt for carrots:       
Many members having fun looking for carrots. 
Jill Castles enjoying a bit of time out as a scarecrow during the Halloween Carrot Chase at Cultra:

Some of our DBSNI members taking a break from carrot hunting:   
Peter Shaw and Lorna Shannon ready for the members to return for refreshments:
A well deserved rest before looking out for pumpkins on the way back for refreshments: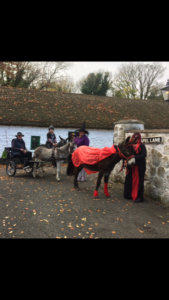 Pet Class at the Cultra DBSNI Championship Show at The Ulster Folk and Transport Museum in August
We received these two gorgeous photos from a visitor to the show, Colleen, from Ottawa in Canada.  Permissions have been granted to include them here:
Successful Training Day held by the Donkey Breed Society NI 
The sun shone for our Elementary training day.  A brilliant crowd of enthusiastic folk enjoyed in-depth demonstrations from farrier Bruce Carson (D.W.C.F) on hoof care and also Gareth Bell from Jubilee Veterinary in Newtownards about knowing when your donkey is unwell. These demonstrations gave people a chance to ask questions and ask for advice relating to their own donkey whilst building upon their existing knowledge and experience . Our sincere thanks to both for providing such interesting and useful information!
After a talk on paddocks and a visit out to the fields it was a chance for everyone to get arty!!  We all channelled our inner 5 year olds and came up with some…erm…'interesting' junk art ideal paddocks for donkeys.  We finished on a long reining demo which encouraged a lot of interest and discussion.
Biggest thank you to everyone who attended both DBS members and non.  We made new friends today all while having the craic which makes our wee society so worthwhile!!
Bruce Carson D.W.C.F farrier demonstrating donkey hoof care

Members and non Getting busy making their ideal donkey paddock out of Junk Art material

Gareth Bell from Jubilee Veterinary Centre , Newtownards discussing donkey health and signs to look out for if your donkey is feeling unwell

Discussing paddock management for donkeys

Kirsty Best (right) Jenny Lyttle , Julie Donnell and Daphne Stewart meeting a resident donkey

Junior members of the Donkey Breed Society NI Leah Rafferty and Caragh Cochrane getting busy making their ideal paddock suitable for donkeys using junk art

A junior member of the Donkey Breed Society NI , Kathryn McKeag showing her thinking about what would be an ideal paddock for a donkey using junk art

Please visit our Facebook page on The Donkey Breeds Society NI to find out more about our club and forthcoming events.