Building a relationship with your donkeys
5th Oct 2019 - 5th Oct 2019 Llanddarog, Carmarthenshire, close to the A40 and M4
Building a relationship with your donkeys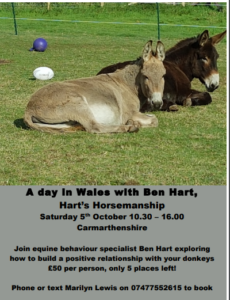 Project details
A one day course organised by the DBS Wales Committee, working with Ben Hart, equine behaviour specialist. A practical, participant-driven learning day, which will be tailored to the issues raised by the participants, but likely to include:
Building a relationship with your donkey
Understanding what could underlie 'problem' behaviour by your donkey
Keeping donkeys stimulated and engaged
Event is limited to 12 participants to ensure maximum contact time and opportunity for interaction with the trainer and donkeys. Target audience is donkey owners in Wales, as there are limited opportunities for such training events in Wales, due to travel logistics and distances. There are a number of new donkey owners, including DBS members and Donkey Sanctuary Guardians in the region who will not have had access to such training previously.
Venue is private equine facilities at Llanddarog, Carmarthenshire, close to the A40 and M4. The owner's donkeys and those of another DBS Wales member will be used for the course. All participating donkeys are insured for third party liability and the venue owner will take out event insurance from DBS for the day.
The event will run from 10.30am until 4pm on Saturday 5 October 2019. Contact Marilyn Lewis on 07477552615 to book.  £50 per person.
Outputs:
Learning event delivered for 12 participants
Report of proceedings and learning points produced and disseminated with DBS Wales newsletter, DBS website and offered to Bray Talk/The Donkey – to be drafted by Marilyn Lewis, DBS Wales Committee Secretary.
Outcomes:
12 participants with increased awareness and confidence in engaging with their donkeys
Potential for more stimulated and confident donkeys as a result of learning gained and ideas shared
Potential for more owners to register donkeys for Active Donkey Award
Back to Calendar