'The Donkey' magazine Update
'The Donkey' magazine for 2018 will be published next month and will be mailed out to all fully paid up members at that time. If you haven't yet renewed, we would urge you to do so as soon as possible.
'THE DONKEY' 2019
We welcome contributions to The Donkey. We try to use as many as we possibly can and love seeing photos and hearing about your donkeys. But there are a few guidelines that you really need to follow as this year, despite explaining how to present items for inclusion to us, we have had some presented in a way that has taken a long time to sort out. If we don't have time to re-do copy then it won't go in, as if it takes too long we will be late going to print.
So please, a few simple guidelines which we must ask you to follow for next year.
1) If you are not computer literate then hard copies of photos and hand written copy can be accepted but please send early so there is time to type it. Also send sae for return of photos.
 2) ALL copy must be sent as a plain word document and SEPARATE jpegs. Please do not embed photos in text – they have to be extracted and the same is true for collages. We want plain text and plain photos. This is the only form that we can take in copy.
 3) Please do not send ready designed copy of any form – we have to undo it, retype it and extract photos. That means no Publisher format or PC design please.
 4) Please clearly label any photo in your accompanying email with the name of the donkey, your name, photographer if separate to you and a caption.
 5) Please don't send emails over 5mb, it's fine to send several emails if you need to containing photos or if you ring, we can explain how to do a file transfer such as drop box
 6) Please use the subject of the email to show the name of the item and your name so they are easy to find.
7) Under Data Protection regulations, photos containing people, and especially children, must have the consent of those pictured; parent/guardian must sign for juniors.
I'm always happy to discuss how to send copy and ideas so do call me and don't wait until the end of the year if you think you have something you'd like to say. We aim to have all copy for The Donkey with me by Monday 14th January but you can send all year round because the earlier the better!
 FRONT COVER - next year the subject is 'Donkeys in fields' - For the past few years we have had a lot of active donkeys, this year we'd like to put a cover showing donkeys enjoying their time in the paddock. It can be any season you like so either dig out some photos or get snapping for the summer.
Liz Wright, Editor
ewright757@btinternet.com
01354 741538
SOUTH EASTERN DONKEY SHOW
7 MAY 2018
VENUE : MERRIST WOOD COLLEGE, GUILDFORD, GU3 3PD.
Schedule available to download from South East page
The Donkey Breed Society was part of the prestigious Lord Mayor's Show in the City of London on Saturday. The donkeys were impeccably behaved and loved the musical entries which kept them marching, and they were particularly admired by the spectators - you couldn't miss all the 'aaaaahs' and 'ooooohs' as they passed the crowds.
There are a huge selection of photos available if anyone would like a set.
Please contact Carole Travell (caroletravell@btinternet.co.uk)
​
​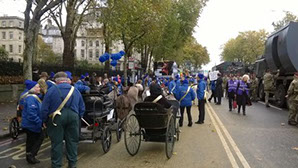 ​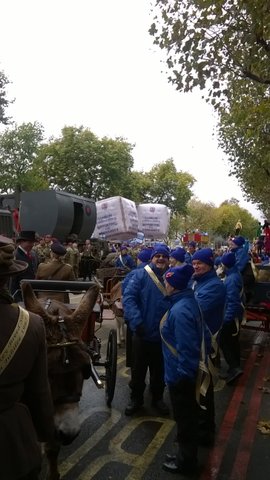 DBS ANNUAL GENERAL MEETING
Saturday 25 November 2017
Puckrup Hall Hotel, Tewkesbury GL20 6EL
Bookings for weekend accommodation will be closing at the end of August, but members wishing to come for the day and/or the annual dinner can still book. Please contact Carol Morse carol.morse@talktalk.net .
This is our Golden Jubilee AGM so please come along and celebrate with us.
If any member has a question to put to the meeting, please contact Carol Morse before Wednesday 8 November 2017.
THE DONKEY MAGAZINE
We need members to take lovely photos of their donkeys for possible inclusion in The Donkey magazine and of course on the cover. Particularly looking for riding this year as we have had driving twice and in hand, but will really consider anything.
Photos need to be over 1mb and larger if possible for the cover, but fine to send small pics first and Liz Wright will get back to you. Email: ewright757@btinternet.com. Liz will acknowledge all photos so if you don't hear from her she didn't get them. Photos also need captions please.
The deadline for all material for the 2018 issue of The Donkey magazine is Friday 22 December 2017.
GOLDEN JUBILEE SOUVENIRS available in Donkey Store
Special edition Membership Badge Donkey Brass (Click Here)
Transport Survey - Can you help?
Nottingham Trent University (NTU), the British Animal Rescue and Trauma Care Association (BARTA), The British Horse Society (BHS) and The Horse Trust are working together to identify ways in which horse transport can be made safer in the UK. You have until 11pm on 30th June 2017 to complete it.
We realise it's quite a long survey but need detailed information so that we can make accurate recommendations for making transport safer - we really appreciate your time!
Before starting the survey please make sure you have the following information to hand:
• Driver transport qualifications (if any)
• Vehicle (lorry and/or trailer) information
• Details of any transport incidents
Please select 'don't know' for questions where you don't have full details.
All respondents will remain anonymous and the subsequent analyses will not include reference to any individual or Company.
Participants must be over the age of 18 and you can withdraw from the survey at any time.
To take part in the survey please follow this link:
https://ntusurvey.onlinesurveys.ac.uk/equine-transport-survey-individuals
LOOKING TO BUY A DONKEY? WAIT! DON'T BE BEGUILED BY ATTRACTIVE WEBSITES … before you buy, read our article (click here)
DBS AGM 2016
The AGM took place on Saturday 19th November 2016 in Newcastle followed by the Annual Dinner on Saturday evening. Sincere thanks to our hosts who went to great lengths to make us feel welcome and provide a beautifully decorated room for our function.
The meeting was well supported followed by presentation of awards to recognise our members' and their donkeys' activities; as was the dinner with amazing entertainment by a magician and dancing afterwards. Thank you to everyone who made the weekend so enjoyable, and to the members who travelled to the meeting. If you would like to see a selection of photographs from the weekend, please use the following link
http://www.mashamphotographers.com/dbsagm2016.html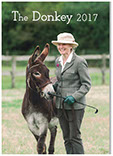 Our annual magazine, 'The Donkey', is available free of charge to members. Additional copies can be purchased for £4.50 including postage. Non-members are also welcome to buy it. Please go to the Donkey Store page.
THE BARNABAS TROPHY
is awarded to a junior member making progress.
Do you know a young person - aged 12 to 18 years old who is a junior member and helping you with your donkeys or looking after their own?
Later in 2017 we will be asking for nominations for the Barnabas Trophy. Your junior should show an improvement in their general donkey knowledge and be actively involved with donkeys in a capacity other than showing. Nominations should be sent to the Chairman of the Education and Youth committee by the end of September 2017.
The Horse Trust
The Horse Trust are conducting an online survey in conjunction with the RVC in relation to Euthanasia. The aim of the survey is to identify the circumstances and factors that lead to the decision being made to euthanase horses in the UK.
In addition to horse owners, the survey is also aimed at veterinary surgeons, charities and other professionals that participate in the decision-making process.
The survey should take 5-10 minutes to complete and the results will be used to help inform guidance and advice that can be used to support people that may have to make this decision in the future.
http://www.surveygizmo.eu/s3/90001414/b23cd8eabcdd